Fast Lane Lab Infrastructure
Fast Lane offers a training and demo lab environment, unrivalled worldwide, to cover every of aspect of high-end networking. Featuring state-of-the-art devices and technologies, the labs and accompanying first-class service, raise the bar for training quality. In addition, these labs are accessible to consultants anywhere, enabling customers to experience and live-test the latest technologies.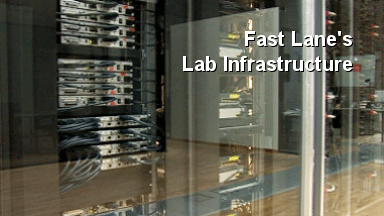 To view this video you need the Adobe Flash Player with JavaScript enabled.Get the Flash Player
Lab Rental
We offer remote labs for a full range of authorized Cisco and NetApp courses encompassing both core curricula, advanced training and customized courses.
Cisco & NetApp Remote Lab Price List & Booking Form
Advanced Technology Labs
You can find detailed descriptions of all available labs and an order form in our lab brochure.

Further information
If you would like to know more about our lab offerings please send an email to info@flane.se.