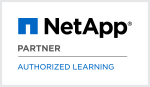 NetApp OnCommand Unified Manager Administration (OCADM)
Who should attend
The target audience is NetApp Employees, Partners and Customers
Prerequisites
The following pre-requisite or equivalent knowledge is required for this course:
Course Objectives
By the end of this course you should be able to:
Monitor and manage physical and virtual storage infrastructure
Provision storage for VMware virtual infrastructure using SnapDrive for Windows
Provision storage for application datastores using OnCommand provisioning capability
Perform policy-based backups using OnCommand protection capability
Clone VMs and backup and recover VMware infrastructure using On-Command plug-in for VMware
Administer security to enable business policy compliance
Automate storage provisioning and protection by using storage catalogue
Monitor and analyze storage systems and vFiler unit performance using Performance Advisor
Course Content
Centralize your ability to deploy, automate, protect and monitor all your storage with NetApp® OnCommand™ unified manager software. With its unique capability of monitoring and managing both physical and virtual storage infrastructures, it offers effective, cost-efficient management of your shared storage infrastructure. It enables you to optimize utilization, meet SLAs, minimize risk, and boost the performance of your storage infrastructure. This course provides an overview of the features of OnCommand management software. In this course you learn to administer your storage infrastructure by using OnCommand management software.
Classroom Training
Duration 4 days
Price
(excl. VAT)
Sweden:

35,900 Kr

NetApp Training Units:

48 NTU
Enroll now
Online Training
Duration 4 days
Price
(excl. VAT)
Enroll now
Schedule
Currently there are no training dates scheduled for this course. Enquire a date