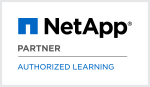 ONTAP MetroCluster Installation (MCCIIW)
Course Overview
MetroCluster software is a unique high-availability and disaster-recovery solution. In this advanced course, you learn how to install, configure and administer a MetroCluster environment. Hands-on labs, available in the ONTAP 9 environment, allow you to practice setting up the configuration, identify component failures and practice recovery steps.
Who should attend
NetApp customers, partners, and employees
Course Objectives
By the end of this course, you should be able to:
Describe the major architectural components of a MetroCluster environment in ONTAP 9
Cable nodes, back-end FC switches and FibreBridge devices
Set up bridges and back-end FC switches
Configure the clusters at both sites in a MetroCluster environment
Set up a MetroCluster configuration and serve data to clients
Detect and recover from failures in a MetroCluster environment
Install and configure Tiebreaker software
Classroom Training
Duration 2 days
Price
(excl. VAT)
Sweden:

17,900 Kr

NetApp Training Units:

24 NTU
Click on the location to go directly to the booking page
Schedule
Fast Lane will carry out all guaranteed training regardless of the number of attendees, exempt from force majeure or other unexpected events, like e.g. accidents or illness of the trainer, which prevent the course from being conducted.
This computer icon in the schedule indicates that this date/time will be conducted as Instructor-Led Online Training.