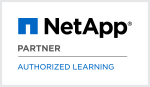 ONTAP 9.3 Data Protection Administration (DATAPROT9)
Who should attend
Network Engineers
Channel Partners
System Engineers
NetApp Customers
Certifications
This course is part of the following Certifications:
Course Objectives
Describe NetApp protection technology and the NetApp integrated data-protection solutions that are supported in ONTAP
Design, implement and manage ONTAP SnapMirror replication
Perform storage virtual machine disaster recovery setup and operation
Design, implement and manage ONTAP SnapVault replication
Use the OnCommand System Manager to set up and manage backup and restore operations
Describe how SyncMirror software can be used to protect data at the aggregate level
Describe how to implement the NDMP protocol in ONTAP software
Course Content
This newly updated Data Protection course using ONTAP 9.3 software, will teach you to become proficient with ONTAP SnapMirror, SnapVault, SVM DR, SyncMirror, and NDMP technologies used to replicate, restore, and protect mission-critical data in the enterprise. Backup and restore operations are taught using the NetApp storage system CLI and the OnCommand System Manager.
The course also provides an overview of the ONTAP MetroCluster high-availability and disaster recovery software solution.
Classroom Training
Duration 2 days
Price
(excl. VAT)
Sweden:

17,900 Kr

NetApp Training Units:

24 NTU
Enroll now
Online Training
Duration 2 days
Price
(excl. VAT)
Enroll now
Click on the location to go directly to the booking page
Schedule
Sweden
Currently there are no local training dates scheduled. For enquiries please write to info@flane.se.
Europe
Germany
Belgium
Bulgaria
21/11/2019 - 22/11/2019
FLEX training
This is an English language FLEX course.


Time zone: Europe/Sofia
Czech Republic
17/10/2019 - 18/10/2019
FLEX training
This is an English language FLEX course.


Time zone: Europe/Prague
France
Italy
Netherlands
Portugal
Slovakia
13/06/2019 - 14/06/2019
FLEX training
This is an English language FLEX course.


Time zone: Europe/Bratislava
Spain
Turkey
19/09/2019 - 20/09/2019
FLEX training
This is an English language FLEX course.


Time zone: Asia/Istanbul
United Kingdom