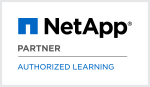 ONTAP 9.3 Cluster Administration (ONTAP9ADM)
Who should attend
Network Engineers
Channel Partners
System Engineers
NetApp Customers
Certifications
This course is part of the following Certifications:
Course Objectives
Describe how ONTAP fits into the NetApp Cloud and Data Fabric strategy
Identify supported ONTAP configurations
Create a cluster
Manage ONTAP administrators
Configure and manage storage resources
Configure and manage networking resources
Create and configure a storage virtual machine (SVM)
Create and manage FlexVol® volumes
Implement storage efficiency features
Create protocol servers within an SVM
Upgrade and revert ONTAP patches and releases
Follow On Courses
Course Content
This newly updated to ONTAP v9.3 is a three-day, instructor-led course uses lecture and hands-on exercises to teach basic administration of an ONTAP® cluster. You configure and maintain a cluster. You practice working with ONTAP features. You use the cluster shell and OnCommand® System Manager to manage storage and network resources. ONTAP Cluster Administration is an intermediate course in a comprehensive learning path for customers, partners, and NetApp employees.
Classroom Training
Duration 3 days
Price
(excl. VAT)
Sweden:

26,900 Kr

NetApp Training Units:

36 NTU
Enroll now
Online Training
Duration 3 days
Price
(excl. VAT)
Enroll now
Click on the location to go directly to the booking page
Schedule
Sweden
Currently there are no local training dates scheduled. For enquiries please write to info@flane.se.
Europe
Germany
Belgium
Bulgaria
18/11/2019 - 20/11/2019
FLEX training
This is an English language FLEX course.


Time zone: Europe/Sofia
Czech Republic
14/10/2019 - 16/10/2019
FLEX training
This is an English language FLEX course.


Time zone: Europe/Prague
France
Netherlands
11/03/2019 - 13/03/2019
FLEX training
This is an English language FLEX course.


Time zone: Europe/Amsterdam
29/04/2019 - 01/05/2019
Utrecht
Course language: English
17/06/2019 - 19/06/2019
Utrecht
Course language: English
Portugal
Romania
08/04/2019 - 10/04/2019
FLEX training
This is an English language FLEX course.


Time zone: Europe/Bucharest
US$ 2,160.-
Slovakia
10/06/2019 - 12/06/2019
FLEX training
This is an English language FLEX course.


Time zone: Europe/Bratislava
Spain
Switzerland
Turkey
16/09/2019 - 18/09/2019
FLEX training
This is an English language FLEX course.


Time zone: Asia/Istanbul
United Kingdom