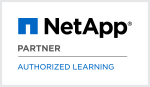 ONTAP 9.3 Cluster Administration and Data Protection Administration (CDOTDP9)
Course Overview
This 5 day course comprises the 3 day ONTAP 9.3 Cluster Administration (ONTAP9ADM) followed by the 2 day ONTAP 9.3 Data Protection Administration (DATAPROT9) courses.
The first 3 days uses lecture and hands-on exercises to teach basic administration of an ONTAP® cluster. You configure and maintain a cluster. You practice working with ONTAP features. You use the cluster shell and OnCommand® System Manager to manage storage and network resources. ONTAP Cluster Administration is an intermediate course in a comprehensive learning path for customers, partners, and NetApp employees.
Students spend the final 2 days learning the core technologies of ONTAP Data protection administration. You will learn to become proficient with ONTAP SnapMirror, SnapVault, SVM DR, SyncMirror, and NDMP technologies used to replicate, restore, and protect mission-critical data in the enterprise. Backup and restore operations are taught using the NetApp storage system CLI and the OnCommand System Manager.
The course also provides an overview of the ONTAP MetroCluster high-availability and disaster recovery software solution.

* SPECIAL OFFER*
Sign up for this 5 day course and receive a FREE voucher for the certification exam. (The exam must be taken within 6 months from the start date of the training.) This offer applies to both public and private onsite sessions. Attend this Fast Lane course and experience a 1:1 student to lab ratio.
Who should attend
Network Engineers
Channel Partners
System Engineers
NetApp Customers
Prerequisites
Course Objectives
Describe how ONTAP fits into the NetApp Cloud and Data Fabric strategy
Identify supported ONTAP configurations
Create a cluster
Manage ONTAP administrators
Configure and manage storage resources
Configure and manage networking resources
Create and configure a storage virtual machine (SVM)
Create and manage FlexVol® volumes
Implement storage efficiency features
Create protocol servers within an SVM
Upgrade and revert ONTAP patches and releases
Describe NetApp protection technology and the NetApp integrated data-protection solutions that are supported in ONTAP
Design, implement and manage ONTAP SnapMirror replication
Perform storage virtual machine disaster recovery setup and operation
Design, implement and manage ONTAP SnapVault replication
Use the OnCommand System Manager to set up and manage backup and restore operations
Describe how SyncMirror software can be used to protect data at the aggregate level
Describe how to implement the NDMP protocol in ONTAP software
Classroom Training
Duration 5 days
Price
(excl. VAT)
Sweden:

44,500 Kr

NetApp Training Units:

60 NTU
Online Training
Duration 5 days
Price
(excl. VAT)
Sweden:

44,500 Kr

NetApp Training Units:

60 NTU
Click on the location to go directly to the booking page
Schedule
Fast Lane will carry out all guaranteed training regardless of the number of attendees, exempt from force majeure or other unexpected events, like e.g. accidents or illness of the trainer, which prevent the course from being conducted.
This class will become guaranteed to run with one more student registration.
This computer icon in the schedule indicates that this date/time will be conducted as Instructor-Led Online Training.
This is a FLEX course, which is delivered both virtually and in the classroom. Please note, local pricing is applicable.